Investing in a Guidance-Less World
Markets are sailing around all-time highs, but without guidance could there be rough seas ahead?
Typically, when a company hosts an earnings call it will issue what is referred to as "guidance." Guidance is what companies tell investors to expect from future fiancial performance. However, with the current economic uncertainty amidst the pandemic, many of these companies have decided not to make claims as to what investors can expect. In fact, a recent Bloomberg article said, "80% of companies refused to provide guidance over the last three months."1 Considering that even the best experts have had a hard time making forecasts, most companies have decided to not even try.
Unfortunately, this lack of insight makes it very difficult for investors to gauge a company's resiliency to the effects of the pandemic. Without the ability to measure this for 80% of companies in the market, it challenging to forecast the impact on an investor's portfolio. All of that being said, where does this leave investors looking for direction?
US equity returns have been very strong during the recovery from the market's March bottom (S&P 500 TR is up 48.9% from March bottom as of this writing)
2
However, many of the most respected investors in finance are raising a cautionary flag when it comes to various valuation metrics and their sustainability.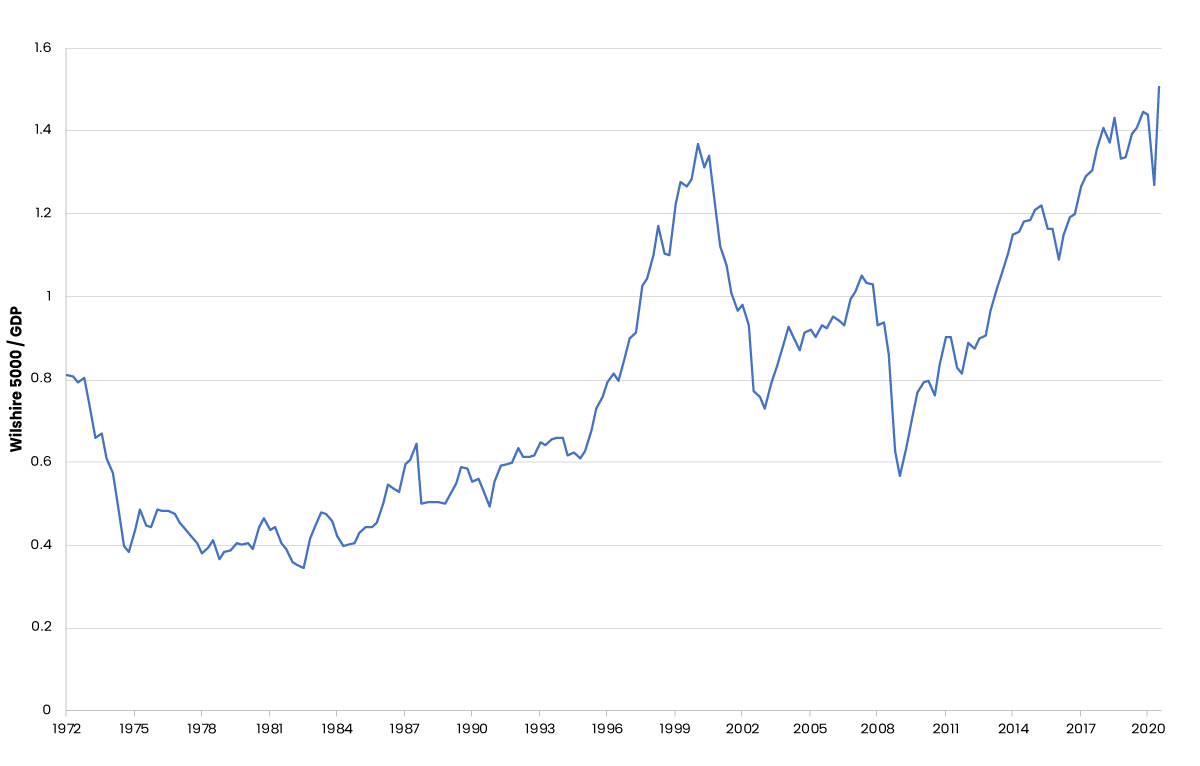 Source: St. Louis Fred 1/1/1972-1/1/2020 Source: Ycharts, nominal quarterly GDP, 2020
The above chart illustrates what is commonly referred to as the "Warren Buffet Indicator", which is the market cap of the Wilshire 5000 Stock Index (an index that is representative of the entire stock market) divided by the US GDP. This is one metric used to gauge the valuations of stocks. As you can see from the chart, this indicator is trading at or above all-time highs which means that growth in valuations has outpaced underlying economic growth. To evaluate whether or not these conditions are sustainable, one must rationalize what the potential for economic recovery looks like. There are enough letter descriptions used to illustrate the types of recoveries — V, U, L , W, K, M, but it is not clear what we can expect. This conundrum has led many professional investors to struggle to justify these valuation levels given the amount of uncertainty in these forecasts.
Blue Square Wealth
At Blue Square rather than trying to predict the future, we aim to prepare for it, regardless of its direction. Using our proprietary technology and rules-based approach to investing, our decisions are not swayed by predictions or emotions.
Our investment strategy has a risk management focus that aims to position portfolios defensively during significant market declines. By systematically raising cash during these periods and then investing it when markets are more accommodating, we aim to create a less volatile investment experience, and ultimately deliver better risk-adjusted returns over full market cycles.

1) Source: Bloomberg 2) Source: Morningstar, S&P 500 TR 3/23/20 – 9/15/20

Blue Square Wealth is a SEC-Registered Investment Adviser. A copy of the Firm's Current Disclosure Brochures can be found on the SEC's IAPD site or may be requested at any time by contacting us. Registration of an investment adviser does not imply any specific level of skill or training and does not constitute an endorsement of the firm by the Securities and Exchange Commission.
All investment strategies have the potential for profit or loss; changes in investment strategies, contributions or withdrawals may materially alter the performance and results of a portfolio. Different types of investments involve varying degrees of risk, and there can be no assurance that any specific investment will be suitable or profitable for a client's investment portfolio. Past performance is not indicative of future returns.
Significant risk may accompany investments in stocks, bonds or other asset classes over short periods of time. Investment return and principal value will fluctuate with changes in market conditions. Your investment may be worth more or less than your original cost. Past performance is not indicative of future results.
This blog is a publication of Blue Square Wealth. Information presented is believed to be factual and up-to-date, but we do not guarantee its accuracy and it should not be regarded as a complete analysis of subjects discussed. All expressions of opinion reflect judgment of author as of date of publication and are subject to change. Information contained herein does not involve rendering of investment advice. A professional adviser should be consulted before implementing any of strategies presented. Information is not an offer to buy or sell, or a solicitation of any offer to buy or sell securities mentioned herein. Different types of investments involve varying degrees of risk. Economic factors, market conditions, and investment strategies will affect performance of any portfolio and there are no assurances that it will match or outperform any particular benchmark. This document may contain forward-looking statements relating to objectives, opportunities, and future performance of U.S. markets generally. Forward-looking statements may be identified by the use of such words as; "believe," "expect," "should," "potential" and other similar terms. Examples of forward-looking statements include, but are not limited to, estimates to financial condition, results of operations, and success or lack of success of any particular investment strategy. All are subject to various factors, including, but not limited to economic conditions, changing levels of competition in industries and markets, changes in interest rates, and other economic, governmental, regulatory and other factors affecting a portfolio's operations that could cause results to differ materially from projected results. Such statements are forward-looking in nature and involve known and unknown risks, uncertainties and factors, actual results may differ materially from those reflected in forward-looking statements. Investors cautioned not to place undue reliance on forward-looking statements / examples. None of Blue Square Wealth or any affiliates, principals nor any other individual / entity assumes any obligation to update any forward-looking statements as a result of new information, subsequent events or any other circumstances.