Diversification Isn't Enough
Concerns surrounding coronavirus have brought one of history's longest bull markets to an end. Now, investors are worried about the current market correction and the impact it is having on their portfolios. This raises the question — does diversification provide enough protection during significant market declines?
Diversification is the primary tool Traditional Investment Managers use to reduce risk. The theory is by combining non-correlated assets like stocks, bonds and alternatives (gold, real estate, commodities, etc.) you will minimize the impact of major market declines. However, in practice this has not always worked. As a result, the long-term strategy to buy and hold a diversified portfolio hasn't worked for many investors who were unable to stay the course through significant losses.
Everyone has a plan until they get punched in the mouth.
How Safe is "Balanced" Really?
Let's consider a traditional "Balanced" portfolio comprised of 35% US Stocks, 15% International Stocks, 40% US intermediate term government bonds and 10% 30-day US Treasury bills. As you can see in the chart below, this "moderate risk" portfolio lost 40% over its worst twelve months — an outcome most investors might not expect from a Balanced portfolio.
Moving forward, with interest rates at historic lows, we could be setting up for a scenario where Stocks and Bonds face a major correction at the same time — further questioning the validity of diversification as the sole source of risk management.
Historical Returns for Traditional Industry Portfolios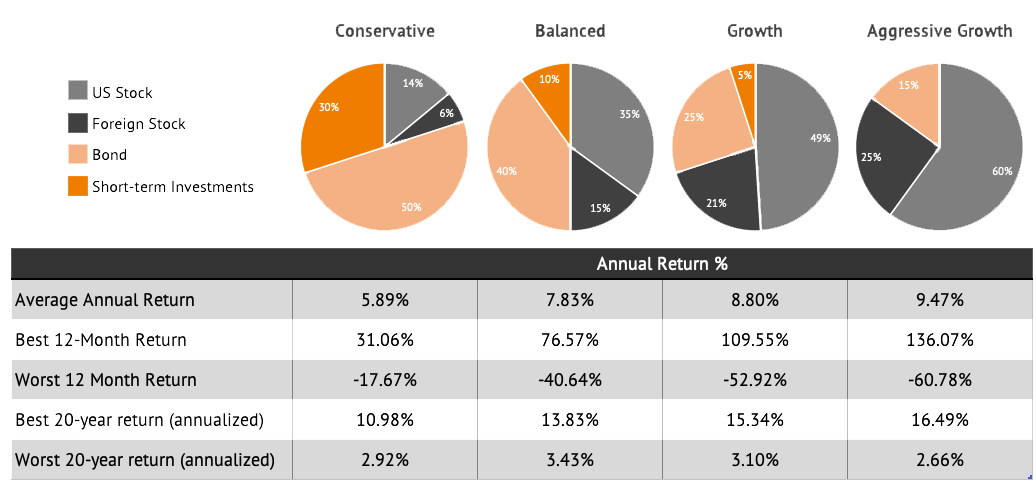 Source: Fidelity Investments, Morningstar, 1926-2018. Domestic stocks are represented by the S&P 500® Index, bonds are represented by US intermediate-term government bonds, and short-term assets are based on the 30-day US Treasury bill. Foreign equities are represented by the Morgan Stanley Capital International Europe, Australasia, Far East Index for the period from 1970 to the last calendar year. Foreign equities prior to 1970 are represented by the S&P 500® Index.
You Deserve Better
At Blue Square, a well-diversified portfolio is only the first step in the process of managing risk and volatility. The second is our active risk management which utilizes a proprietary technology and rules-based approach to position portfolios defensively during significant market declines.
By systematically raising cash during these periods and then investing it when markets are more accommodating, we aim to create a less volatile investment experience, and ultimately deliver better risk-adjusted returns over full market cycles.

All investment strategies have the potential for profit or loss; changes in investment strategies, contributions or withdrawals may materially alter the performance and results of a portfolio. Different types of investments involve varying degrees of risk, and there can be no assurance that any specific investment will be suitable or profitable for a client's investment portfolio.